Family Day saw the official grand opening of the new Milton Indoor Turf Centre at Jean Vanier Catholic Secondary School.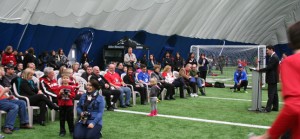 Several dignitaries took part including Mayor Gord Krantz and Milton Trustee and Chair of the Halton Catholic District School Board, Diane Rabenda, who made the ceremonial first kick following the ribbon-cutting.
Families and neighbours gathered in gear to take part in the opening festivities. Activities included a beginners' lacrosse clinic for youth led by Garrett Billings of the Toronto Rock, an ultimate frisbee clinic hosted by the Toronto Rush professional team, and a drop-in soccer game.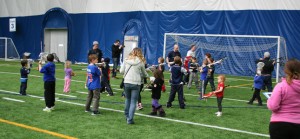 The 'dome' shared by the city and Jean Vanier Catholic Secondary School, was designed and built to support the recreational needs of the rapidly growing Milton community.  It will be operated as an air supported structure or 'dome' during fall and winter months to accommodate year-round use.
Through this strategic partnership, the board and city were able to share costs and invest in the new full-size soccer field that can be divided into four practice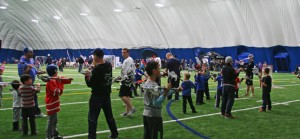 size fields.
"It was gratifying to see so many young people use the facility for all the different sports," said firm Principal and Project Manager, Anil Gokarn.  "The city now has a facility where the community can get involved year-round."
Gokarn added that he's proud Snyder Architects was able to complete the dome along with the new high school without any impact to the project budget or timelines.