Angus, Ontario, February 3, 2014 – On Monday, three schools united as one for the blessing and ribbon cutting at their new home, Our Lady of Grace Catholic School.
492 students coming from Prince of Peace, Our Lady of Assumption and Our Lady of Grace Catholic Schools assembled in the atrium for the opening ceremony. Spirits were high as curious students explored the nooks and crannies of their brand new school.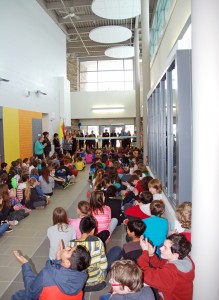 The Simcoe Muskoka Catholic District School Board engaged Snyder Architects to design Our Lady of Grace as a state-of-the-art school for the mind, body and spirit.
The atrium acts as the connection point at which these elements combine to express school identity – student-centred Catholic education. The classrooms and library represent he mind; the gym, play areas and fields the body; and a chapel and Catholic design features reflect the spirit of the school.
"The new school design is cheerful and flooded with natural light," said Project Architect and firm Principal Avinash Garde. "It's thrilling to see students' reactions to their dramatically transformed school on opening day."
"The centre of the school is an atrium called Trinity Hall," said Architect-in-Charge, Doug Snyder.  "It stands as a symbol of the three schools coming together as one.  I was honoured to take part in the ceremony."
Yellow, white and blue ribbons symbolizing each school, were cut in honour of the union in the aptly named, Trinity Hall.