Milton, Ontario, May 29, 2014 – Snyder Architects handed the keys over to Jean Vanier Catholic Secondary School at last week's Dedication and School Blessing.  The atrium was abuzz as staff and students assembled to celebrate their new high school – a dream come true.
Jean Vanier welcomed His Excellency Bishop Daniel Miehm who partook in the ceremony.   His Excellency was joined by Senior Board Administrators, staff, students, the school band and choir.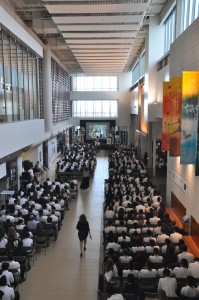 Doug Snyder, Founding Principal said his job was done as he handed the key over to William Burmeister, a Student Representative.
A short documentary about the design of the new school was presented along with a video message from Jean Vanier himself – expressing his gratitude and sharing words of wisdom.
Last September, the school opened its doors to the Milton Community. A flagship school for the Halton Catholic District School Board, Jean Vanier CSS was designed to support experiential learning and diverse pathways to success.